Spatial Order Picking Software.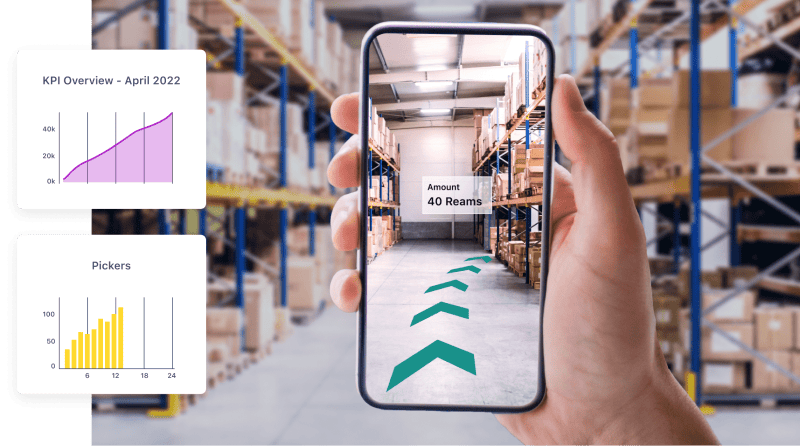 What is WAYFINDER?
WAYFINDER is powered by VERSES spatial networking technology and open standards making it interoperable and adaptable to any WMS or ERP.
Compatibility
Locate products lightning fast with 3D wayfinding on iOS devices. Android coming soon.
Headphone Compatibility
WAYFINDER even works on state of the art mixed reality headsets including Magic Leap.
Up to 200% performance increase
Visual wayfinding to exact pick location
Intuitive Mixed Reality interface
Optimal routing and pathing
Low impact Integration into any WMS
Immediate on-boarding, reduced turnover
High employee acceptance and satisfaction
Spatial analytics and smart allocation
Enables human-robotic hybrid operations
No Comparison.
Hands-free Vision Picking and Audio Picking yield incredible performance gains over traditional workflows but the benefits end there. WAYFINDER leverages a spatial model of the warehouse to direct pickers to the exact location in 3D space. This Spatial Model can also be used to coordinate human activity alongside autonomous robots and drones for optimizing various tasks.
Spatial Analytics.
WAYFINDER Dashboard unlocks hidden patterns and opportunities to improve workflow.


Spatial Heatmap
3D Visualization
Smart Digital Twin.
Augmenting humans in Pick and Pack warehouses is just the beginning. Connecting atoms and bits leads to unprecedented visibility, control and automation of any operation.


Predictive Slotting Optimization
Smart Replenishment
Automated Put-away
Dynamic Routing
Robotic Pallet Truck Picking
Virtual Conveyance
CV based Inventory Control
Supply Chain Provenance
Deeper 3rd Party Integration
Fleet Management
The Future is Bright.
Augmenting humans is just the beginning. Underlying WAYFINDER is a common grammar for space that enables Industry 4.0 technologies like robots, drones, cameras, sensors, AI and blockchain to work in concert, unlocking incredible value.




How does Spatial Order Picking work?
WAYFINDER converts text-based instructions to spatial "holographic" instructions. Think of it like 3-Dimensional GPS.
Which Warehouse Management Systems do you support?
We are constantly developing adapters – sign up to our newsletter to stay informed on new integrations.
How long does an integration take?
An integration can range from 1-3 months depending on the specifics of a warehouse operation.
How fast is Return On Investment?
Low Implementation costs + radical efficiency gains means ROI is measured in months not years.
How do you handle data privacy and security?
WAYFINDER integrations are very light and require minimal information.
What hardware do you support?
WAYFINDER is hardware agnostic and we support smartphone (iOS and Android) as well as mixed reality (Magic Leap and Hololens).
Experience the next-generation AI Operating System.